On Saturday, December 7th, 2019, our Community Advisory Board (CAB) met at Brigham and Women's Hospital for a day of training to equip them with family planning knowledge, a reproductive justice framework, and practical public speaking skills to participate in PICCK activities. PICCK hopes CAB members will co-facilitate our Annual Meeting and hospital-based educational presentations for providers and staff.
The training began with introductions and an icebreaker question: What's something you wish you had learned in sex ed in school? Members shared their varied experiences with sex and health education in school. Many members wished they had learned about different contraception methods, other than the pill and condoms. Others shared that they attended Catholic high schools, where virtually no sex education, other than abstinence-only, was taught. One member remembered the graphic, shame-inducing images of sexually transmitted infections that were shown to deter students from having sex This ice breaker reminded the PICCK staff that the provider-patient contraceptive counseling session they are conducting programming to improve is often a high stakes moment. This encounter may be the first time a patient receives detailed and medically accurate sexual health information, and the patient may bring a lot of questions, misconceptions, and stigma with them that the provider needs to be prepared to engage with.
As CAB members sipped their morning coffee, the Contraceptive Methods Information Fair began. CAB members learned about all contraceptive methods in this interactive demo and teaching fair. Three tables were set up with contraceptive methods divvied up by how one can obtain the method – methods you can get on your own without a clinician, methods you need a prescription for, and methods that require a clinician visit. It was exciting to arrange the methods not by effectiveness, which is often how providers organize their counseling, but by access, a very important factor to patients when selecting a method. The methods on display or set up for discussion included fertility awareness (Cycle Beads), withdrawal, internal condoms, external condoms, spermicide, sponge, diaphragm, pill (combined and progestin-only), patch, ring, depot medroxyprogesterone acetate (DMPA), implant, IUD (hormonal and copper), emergency contraception (Plan B, ella, and copper IUD), and sterilization. Anatomical models were available so members could see how methods were inserted and where they were located on the body. PICCK clinicians demonstrated condom use on models. Dental dams and lubricants were also displayed. Handouts on each method from the Reproductive Health Access Project (RHAP) were available, and members were encouraged to take them to learn more on their own.
To field our CAB members' questions at the tables, we had Dr. Sara Neil of Brigham and Women's Hospital, Dr. Julie Potter of Boston Medical Center, and PICCK's Principal Investigator, Dr. Katharine White.
Participants walked through the fair at their own pace, asked questions of our experts, handled different methods, and discussed, if they wanted to, their own personal experiences with methods.
The day of training was a success and CAB members expressed enjoying learning about and interacting with the different kinds of methods! Myths were busted, questions were asked, experiences were shared, and everyone walked away learning something new.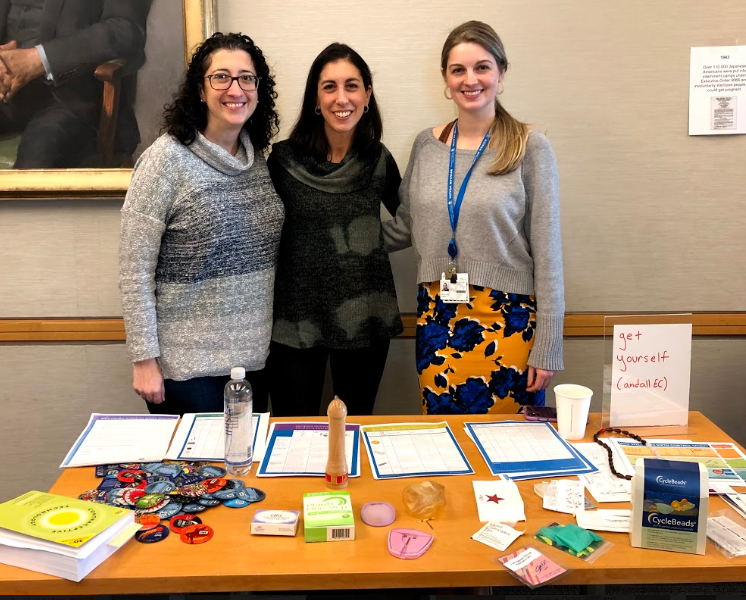 [from right to left] Dr. Katharine White, Dr. Julie Potter, and Dr. Sara Neil served as our contraceptive experts at the Contraceptive Methods Info Fair.