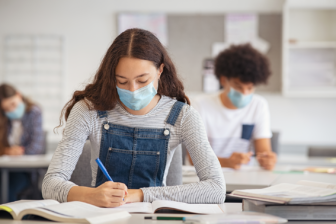 The 2020 COVID-19 pandemic has created a new normal; the mental checklist we have before leaving home has changed from "phone, keys, and wallet" to "phone, keys, wallet, and mask." There are innumerable ways in which the pandemic has affected our lives. It has also brought to light the importance of public health officials, and more broadly the understanding of public health. As the United States government has turned to, and relied on, public health in a new and profound way, many have garnered an interest in the discipline. Masters of Public Health (MPH) Programs have seen a 20% increase in applications in the 2020 cycle (1). While there seems to be an undeniable correlation between the coronavirus pandemic and these increases in applicants, it is not yet known which interests and focuses the incoming students will pursue (1). As students complete the curriculum for their respective programs, people will uncover the areas of public health that interest them most. 
Reproductive healthcare is an area of public health that continues to need trained advocates. Public health and contraception intersect in a multitude of ways. The Centers for Disease Control and Prevention (CDC) listed the benefits of contraception as one of the ten great public health accomplishments of the 20th Century (2). The CDC noted that the benefits associated with contraception not only improve patients' health, but also improve their overall well-being (2). Nine in ten American adults believe that contraception is a basic healthcare need for women; however, there are many barriers to accessing this essential care (3). Child care, transportation, language barriers, insurance challenges, and many other factors impose difficulties on patients in need of contraceptive care. Social determinants of health are extremely important aspects of healthcare that are often overlooked and not consistently well-documented. Hopefully, an increased interest in public health will lead to changes in this area. 
Working in the field of reproductive's health is stigmatized in many places. However, the importance and need for more advocates and programmers in this area has not lessened. Due to the societal pressures associated with this specialty within the field of public health, students may be cautious to enter into it. Public health students should be supported when engaging with reproductive's health rather than politicized. PICCK has proudly engaged with public health, medical, and design students in order to support, guide, and foster growth in the emerging future leaders of this field. To date, 13 public health and medical students have worked with PICCK to develop toolkits, presentations, research studies, a contraceptive decision aid, guidelines, videos, support for our Community Advisory Board (CAB), and other resources that you can access at picck.org. We look forward to continuing to involve students in our work through internships, part-time jobs, practicums and research blocks. Please be in touch with PICCK if you are interested in working with us! You can reach us through our Contact Us on the website. 
References:
Smith, MI., Young K. Public health programs see surge in students amid pandemic.

ABC News.

https://abcnews.go.com/Health/wireStory/public-health-programs-surge-students-amid-pandemic-74246218

. Published November 17, 2020. Accessed January 15, 2020.

Access to Contraception.

American College of Obstetricians and Gynecologists.

https://www.acog.org/clinical/clinical-guidance/committee-opinion/articles/2015/01/access-to-contraception#:~:text=Universal%20coverage%20of%20contraceptives%20is,of%20endometrial%20and%20ovarian%20cancer

. Published January 2015. Accessed January 15, 2020.

Sealy, G. The Intersection of Public Health and Contraceptive Access.

Power to Decide.

https://powertodecide.org/news/intersection-public-health-and-contraceptive-access

. Published April 3, 2019. Accessed February 3, 2020.